Welcome to Hill Foot Garden Centre,
Hill Foot is a family run garden centre on the edge of Ulverston in the south lakes area of Cumbria.

HTA Gift cards & vouchers NOW SOLD & ACCEPTED.
We are pleased to advise that we accept all HTA gift vouchers & also sell HTA gift tokens here at Hill Foot.
So if you are stuck for a gift to a loved one, look no further & treat them to ths great idea for them to spend on there garden.
Cloche protection
Overwintering veg like broad beans, spring cabbage and chard get battered around the edges when it gets seriously cold and wet
PLANT OF THE WEEK: SNOWDROPS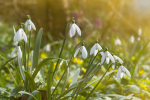 The sight of brave little snowdrops pushing their way through the frostiest ground gives every gardener new hope. Once the first porcelain petals have opened you know winter aconites and crocuses aren't far behind: before you know it every inch of soil is bursting with dainty colour and the gardening year has begun.
Give snowdrops dappled shade in soil enriched with compost or even better, leafmould – autumn leaves rotted down for a year or two to mimic the woodland floor snowdrops love. Snowdrops make beautiful partners for winter shrubs like dogwoods and witch hazels, and other spring flowers including hellebores, winter-flowering aconites and Cyclamen coum.