Welcome to Hill Foot Garden Centre,
Hill Foot is a family run garden centre on the edge of Ulverston in the south lakes area of Cumbria.

Indulge in some sweetpeas
Sow sweet peas into 'root trainers'
Plant of the Week: Daffodils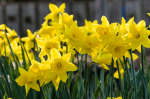 You know spring has sprung when the first daffodils open. That cheery yellow is just the right shade for lifting the spirits after the dark days of winter, and you know that things are just going to get better from here.
They're fantastic value for money, giving years of pleasure for just a few quid. If you didn't get around to planting bulbs last year, just pop down to the garden centre and pick up some ready-potted daffodils bursting into flower right now. Cram spring containers with zingy shades of orange, yellow and white, or just plant them straight into your borders for a burst of pure springtime beauty.